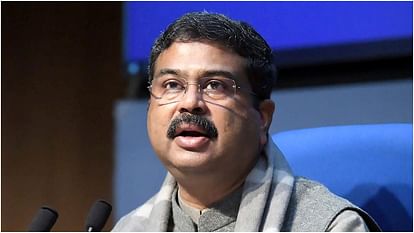 Dharmendra Pradhan – Photo : Social Media
Expansion
For the first time, students sitting at home are going to get the opportunity to study Masters in two foreign universities from the academic session 2024. Australia's Deakin and Wollongong universities will start their first batches in India from the July session. Applications for this will start from January and March. The special thing is that Australia has supported the recommendations of the National Education Policy (NEP) 2020, which will bring changes in the Indian education system. Under this, both their universities have reiterated the point of providing higher education in Indian campuses as per NEP 2020 along with international standards.
Remove this video/ad
Union Education and Skill Development Minister Dharmendra Pradhan along with Australian Education Minister Jason Claire on Tuesday visited the site of the upcoming campus of Wollongong and Deakin Universities under construction in GIFT City, Gandhinagar. After this, the education ministers of both the countries said that the first two foreign universities in India will start the first batch from the next academic session. Pradhan said that the students are getting a gift before Diwali that now they will get a chance to study from a foreign university sitting at home. Two Australian universities are setting up their respective international campuses in GIFT City in line with the National Education Policy (NEP)-2020, which underlines the internationalization of education and the presence of eminent educational institutions in India.
On the other hand, Australia's Education Minister Jason Claire said that Australia and India are different countries and they also have different challenges. Tapan Ray, Managing Director and Chief Executive Officer of GIFT City, said that within five to seven years there will be 64 multi-storey buildings here, which will give it the feel of being an international finance centre. He said that GIFT City has been planned to be developed in a total area of ​​4.4 crore square feet, out of which commercial, residential and social infrastructure will be developed in 2.2 crore feet.
Up to 80 percent place for Indian teachers
The campuses of the country's first two foreign universities are opening in GIFT City in Gandhinagar, Gujarat. About 20 percent of the teachers in these two international campuses of two Australian universities will be foreigners. Whereas up to 80 percent of Indian teachers will get employment. At the same time, students will get quality and affordable education from foreign universities sitting at home.
First batch masters course from July
Deakin University Vice-Chancellor Ian Martin said that the institute will start Masters courses in cyber security and business analytics from the first batch. The annual fee for this will be Rs 10.7 lakh. The date for filling online application form for this course will be 31st March. Whereas the course will be started from July 1st. At the same time, Patricia Davidson, Vice-Chancellor of the University of Wollongong, announced the Global Finance Center and the Global Women Fintech Corporation. The first batch of the university will start studying from next year i.e. July 2024. Officials hope that they will get more than 150 students in the first batch. Both the universities will also give scholarships to economically weaker Indian promising students on the basis of merit.
Absolute silence on India-Canada dispute
On a question related to the ongoing dispute between India and Canada, Australia's Education Minister said that he does not want to comment on it. This is a matter between the two countries. He will not comment. But if any Indian student comes to study at his place then he will welcome him.