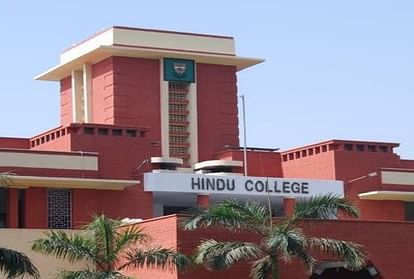 Hindu College – Photo: Amar Ujala
Expansion
Hindu College: Around 15 students at Delhi University's Hindu College have been expelled on charges of "indiscipline" during the college union elections. When the matter was taken up on the recommendations of the Disciplinary Resource Committee of the college, it was found that these students were creating disruption during the elections.
Remove this video/ad
The college principal gave information about this on Monday and also informed that action is being taken against three other students also. Principal Professor Anju Srivastava said that the students have been rusticated for a limited period as per their involvement in creating disturbance.
In an e-mail dated October 27, the college's Disciplinary Resource Committee informed students that "gross indiscipline" was witnessed on their part during the student union elections at the college during September 15–18.
The committee, in its email, cited an October 16 meeting with the students, during which it showed them photographs and videos of their "involvement" in the alleged incidents.
Students of Hindu College had gone on a hunger strike in September over the rejection of nominations of 30 students for the posts of 'Prime Minister' and central councilors in the college. In Hindu College, the head of the student union is called 'Prime Minister' instead of President. The college had cited low attendance as the reason for cancellation of enrollment and after the matter escalated, it had ordered an inquiry and demanded police action.
One of the students expelled from the college, on the condition of anonymity, said, "The college did not consider our attendance in practicals and only considered attendance in theory classes. We issued a notice to the administration to release our attendance." sought to."
A maximum suspension of four months has been given by the disciplinary committee. The expelled students have been asked to give an undertaking that they will not indulge in any such activities in future.