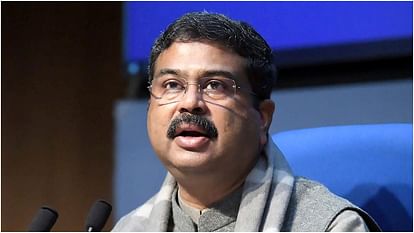 Dharmendra Pradhan – Photo : Social Media
Expansion
Union Education Minister Dharmendra Pradhan said on Thursday that due to the National Education Policy- 2020, students will benefit most from multiple entry-exit, multidisciplinary education, Academic Bank of Credit. Universities will have to focus specifically on Indian language, knowledge tradition, skills, employment and entrepreneurship. The Union Education Minister was addressing the conference of Vice-Chancellors of Western Zone on the implementation of NEP. He said that the world is becoming smaller today because of technology. Hence there is a need for mapping of emerging skills. At the same time, all educational institutions will have to move forward with best practice.
Remove this video/ad
Pradhan praised the Gujarat government in a program organized by UGC in Baroda. Gujarat has prepared a 10-year roadmap regarding NEP. Pradhan said that there are more than four crore students in higher education. Of these, 15 percent are from the Western Zone (Maharashtra, Gujarat, Goa and other union territories). That means more than 65 lakh students come from these states. The universities of the Western Zone are quite different from other higher educational institutions in the country.
He urged the universities of the Western Zone to create India 2047 and the roadmap to make India the third largest economy. In this, they will have to work on the basis of case study so that work can be done on its basis in other universities of the country. In the program, Gujarat Chief Minister Bhupendra Patel, UGC Chairman Prof. M Jagadish Kumar, AICTE Chairman Professor TG Sitaram and others were also present.
There is no difference between India and India
On the controversy arising out of the proposal by the NCERT committee to use the word Bharat instead of India in the school curriculum, the Union Education Minister said that there is no difference between Bharat and India. We have accepted both India and India in the Constitution. Today in the intellectual world, there is a competition among some people with frustrated minds to make this a controversy.
UGC, AICTE focus on four subjects
The Union Education Minister said that UGC and AICTE have given priority to focus on four subjects under NEP. This includes Indian language, Indian knowledge tradition, skills, employment, entrepreneurship education.