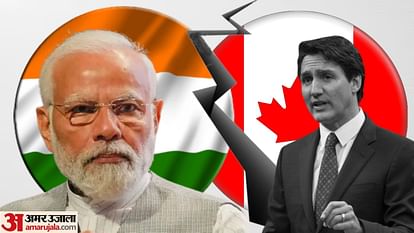 India-Canada tension – Photo: Amar Ujala/Nirmal Kant
Expansion
India Canada News: Amid the ongoing diplomatic turmoil between India and Canada, a leading University of Toronto has tried to assure the student community of their well-being. It has been said that India's suspension of the visa process will hamper face-to-face interactions, but best efforts will still be made.
Remove this video/ad
Professor Joseph Wong, Vice-President International at the University of Toronto, said in a statement, "We know that many members of the University of Toronto community are viewing the relationship between the governments of Canada and India with concern. The situation is rapidly changing, "That's creating uncertainty and tension, and we don't yet have answers to many important questions."
Wong said the University of Toronto is "proud to be home to more than 2,400 international students from India, who enrich our classrooms and campus life", and many other students, faculty, staff, librarians and alumni from India. are connected.
"We want to reassure all affected members of our community, and especially international students, that you are welcome here and we are deeply committed to supporting your well-being," he said.
Wong said the university is committed to its "long-term partnership" in India that supports academic collaboration across a wide range of areas and provides invaluable global learning opportunities for its students.
"We look forward to continuing and deepening these relationships, which are consistent with our mutual goal of driving change locally and globally. In the short term, the suspension of visa processing for travelers from Canada will hinder face-to-face connections. will generate, but we will continue to build these relationships through online interactions."
The University of Toronto said on its website that it has a long history of collaboration with students and faculty who have ties to India. "The Greater Toronto Area (GTA) is home to more than 500,000 Indian-Canadians," it said.
Earlier last week, India had asked Canada to recall several dozen diplomats from its missions amid a diplomatic row that escalated following Trudeau's allegations.
India has asserted that Canada should reduce its diplomatic presence in the country to maintain parity in power and has alleged that some Canadian diplomats are involved in interfering in New Delhi's internal affairs, which is a conflict between the two countries. There is a sign of continued deterioration in relations between.