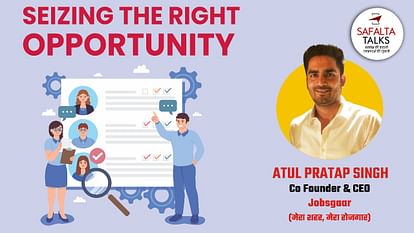 Success Talk Master Class Seizing the Right Opportunity – Photo: Amar Ujala
Expansion
In the master class session organized by Success.com on Seizing the Right Opportunity, Atul Pratap Singh, CEO and Co-Founder of Jobsgar Company, said that the number of youth in India is high and they consider it as a natural resource. The decade is going to belong to India. Because other countries are struggling with the shortage of youth. He said that most of the Indian youth remain in a state of confusion regarding their career. Here people give more importance to job and ignore career. Atul said that even in 2023, the dependence of most of the youth of the country is high whereas this should not happen. The number of government jobs will continuously decrease in the coming years. Government jobs are better in terms of security but there is no dearth of opportunities in private sectors. On the basis of the population of America, he said that India's population is much greater than that of the US, whereas India is lagging behind the US by 20-25 years. There, people's dependence on government sector jobs has reduced in the last 20-25 years. The youth will have to do the same work in India. If you do not get a government job, your career will not be at risk. Hundreds of doors to private areas open for you. To which the youth should pay attention.
Remove this video/ad
Youth should understand the importance of internship
Internships give you your first corporate exposure. Generally youth do not take internship seriously. The youth get 2-3 months time for internship. Unable to utilize it properly. Especially most of the youth coming from small towns to big cities are not able to focus completely on internship. Atul said that it is not necessary that the youth go for internship and work for 10 hours every day, but for as long as they work, they should do it wholeheartedly. So that the company and you get its benefits.
It's not your degree but your talent that makes the difference.
Atul said that even in 2023 and in the times to come, young leaders will mostly be seen at the top level of the company. Such companies are not looking for degrees. Your talent and extra certifications are going to matter more to them. That is, what is there inside you that makes you different from others. What skills have you learned that are different from your degree?
There is huge scope for digital marketing for the next 25 years.
Atul, co-founder of Jobsgar, said that digital marketing has a very wide scope in the coming 25 years. Because after the advent of technology, changes are happening so fast. Talking about two decades ago i.e. after 2000, he said that at that time not everyone had mobile phones. There used to be two or four telephones in the village or only one in the locality. Everyone used to call on the same telephone. But every youth of today's generation has phones. Our parents are also learning to use the phone. So the digital reach that is increasing everywhere has increased the demand for people running digital platforms. He said that the demand for skilled people has increased to run e-mail marketing, social media or designing etc.
AI will not eliminate jobs
He said that everyone is saying that if AI comes then our jobs will not be there. All the design and marketing will be done by AI itself. Atul said that this is not the case at all. Giving the example of an airplane pilot, he said that airplanes were made years ago, there have been speculations for a long time that airplanes will run in auto mode. But this has not happened till date. During this time, the wheels of the plane started moving in and out, the wings became bigger, the capacity of passengers increased. Even today two pilots sit in the cockpit of an aeroplane. That is, from the time the airplane was made till today, no one could remove those two pilots. He said that the youth should remove this thought from their minds that they will not get work because of technology. It's not like that. There will be technology but there will also be people to run it. That means your job was secure and will remain so in future also.
It is very easy to get jobs these days
Atul said that two decades ago one had to provide reference from an acquaintance for jobs. But it is not so today. In today's time, an ordinary youth who has a mobile and knows a little technology can easily earn Rs 15 to 20 thousand per month. Can earn a good living for his family and himself. He also said that due to increase in population, competition for jobs has increased considerably. That is, whatever job you are preparing for, do not take it lightly, you will be able to get the job only if you prepare better.
Youth should not see salary in first job
Atul Pratap Singh, CEO of Jobsgar, said that for the last decade, I have been seeing this trend that this is my first job and the salary is very less. He told the youth that it would be wrong to leave the job within a few months due to low salary and dream that they will get a higher salary in the next job. You may get only Rs 10,000 in your first job, or Rs 15,000 or Rs 25,000 per month. But losing the opportunity in the hope that you are not joining the job because the salary is low can be a big risk. He gave an example and told a story of the last decade in which a youth started his first job with Rs 6,000 per month and today he is getting Rs 1.25 lakh per month. He said that salary will definitely increase with experience, hence do not let the right opportunity go away due to low salary.
Build your career with success
Country's well-known edtech company Success has started many professional and skill-oriented short and long term courses to help the youth, from where you can make yourself a professional in any field sitting at home. Apart from digital marketing, there are many courses available here. Not only this, for the youth who are dreaming of a government job, there are courses to prepare for almost all competitive examinations on success. After studying from here, hundreds of youth have got excellent jobs in government and private sector, so what are you waiting for, join success today and make your brilliant career. You can also join these courses by downloading Safalta App in your phone.